Whether you go with friends, family, or work colleagues, the objective is still the same… to collaborate in order to escape the room in 60 minutes or less.
In each room, there are hidden clues that ultimately direct your team to the hidden keys to make your exit. How well you can work together will determine if or how quickly you can solve the riddles.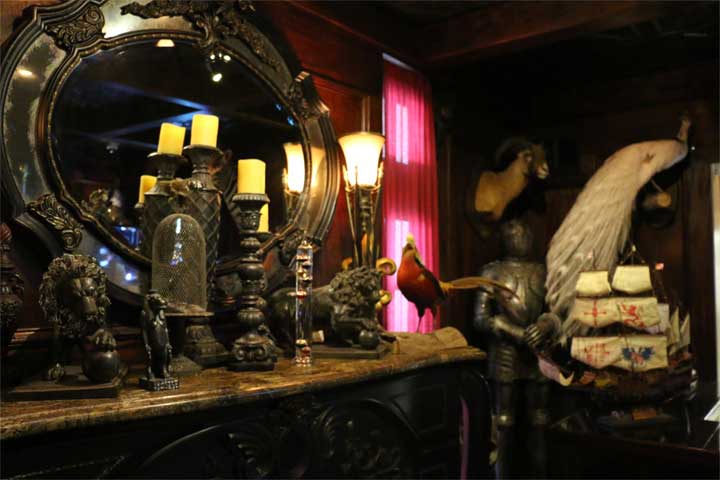 Mystere Mansion has a myriad of escape rooms with a host of different themes. Rooms can be selected by themes and levels of difficulty. Each room is unique and follows a different storyline in accordance with the theme of the room. The Game Room (rated G; Medium skill level) is filled with rare artifacts from the most remote parts of the world. Morto, the "Clue Master", has hidden clues and riddles for your team to decipher. There are such artifacts, for example, as the remains of a Fiji Mermaid and an 1800's Vampire Hunting Kit. In the Serial Killer's Lair (rated PG-14; Difficult skill level), your team will be stalked and tormented by a homicidal maniac, as you get caught in the killer's hidden traps. There's also the Embalming Room Zombie Escape (rated PG-14; Medium/Difficult skill level); the Treasure Hunt (rated G; Medium skill level); and the Ghost Lab (rated PG-14; Very Difficult skill level) which is by far the most challenging room. As a great means to measure how your team interacts, it also determines how well they work together under duress. Although our team building events take place in the same escape rooms as the public bookings, they afford your team extra exercises in team building.
For your group of 12 or more people,
contact our Director of Marketing, Ben Hulin, by calling (985) 502-5874. Email Ben at

[email protected]

.
Inquire about our group discount for your next gathering.
Escape the ordinary!