Escape Rooms: Bring your krewe to the Escape Rooms at Mystere Mansion.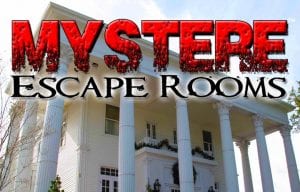 Located near the Endymion parade route on Canal Street near the cemeteries in the heart of Mid City, stands Mystère Mansion, a magnificent collection of interactive escape rooms each with its own unique theme. While visiting New Orleans or on break for Mardi Gras, bring your krewe over to the escape rooms for suspenseful fun. It's the ultimate live-action game designed for team play of a krewe of up to 12 players. The ultimate goal is to find the clues, solve the riddles that leads your krewe to the key, and escape the room in under one hour. Each thrilling adventure follows a storyline, and the clues are hidden within the storyline.
Outwit Morto the Puppet-master in the Game Room or escape the zombie's wrath in the Embalming Room. Beware of the paranormal in the Ghost Lab, the pitfalls laid out by the pirates in the Treasure Hunt, or the treachery of the Serial Killer's Lair. Each room has its own skill level, as well as an age appropriate rating, so that children of all ages can immerse themselves in the experience. The thrills and chills from this immersive experience brings out the child in all of us, but is not for the faint of heart. Family or friends can depend upon each other for their individual strengths and ability to think outside of the box to beat the clock and make their escape for the win. For krewes of 12 or more people, discounts are available. It's another major attraction in New Orleans' Mid City that can be reached by the Canal streetcar line from the CBD, Warehouse District, Carrollton, and Uptown New Orleans. Ample street parking is available in the vicinity as well.
For your krewe of 12 or more people, contact our Director of Marketing, Ben Hulin, by calling (985) 502-5874. Email Ben at

[email protected]

. The Mystère Mansion is located at 4800 Canal Street, New Orleans, LA 70119. Contact us at (504) 483-2350 or by email at

[email protected]

. Escape the ordinary!